ENTREPRENEUR
AUTHOR
BUSINESS BUILDER
LEADER DEVELOPER
MY NAME IS CORY
& I AM FOCUSED ON TRANSFORMING CULTURE.
Through my personal leadership journey, I have been deeply passionate about helping leaders develop their unique gifts, maximize their strengths, and discover their untapped potential.
A core belief of mine is that there is truly gold in each individual. I work to empower entrepreneurs and leaders to discover, embrace, and boldly perform to their fullest potential in order to maximize their relationships, results, and revenue. My desire is to come alongside them to help them grow personally and professionally but not at the expense of their Faith, their family, or their fitness.
Read my Story
Grab a copy of my new book,
leading with insight: 31 Days of Wisdom for Leaders
Designed as both a devotional and leadership guide, Leading With Insight offers a unique approach to exploring leadership principles in the context of your spiritual journey. These will help you navigate the complexities of your role without losing sight of God or pushing your faith on others.
learn more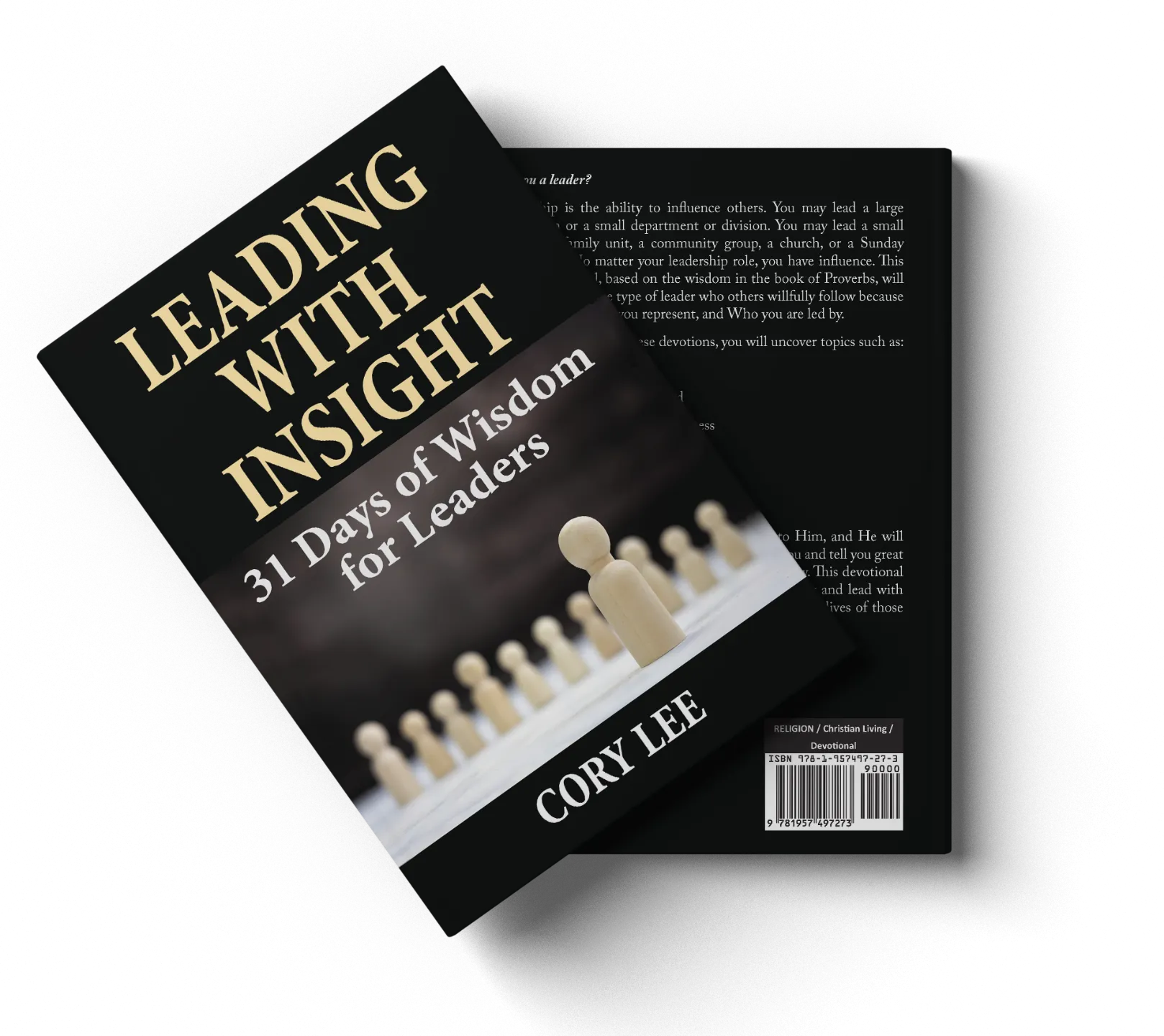 After our first training with Cory, our team members went back to tell their co-workers what we discussed and all that we learned and highly encouraged them to make sure to attend the next one. So, we scheduled another session with other members of our team.
Shelli Wood, Shearer Richardson Memorial Nursing Home
One of the most valuable lessons I've taken away from this is that in order to successfully lead others, you must learn to effectively lead yourself. Being example for others to follow is crucial as we are who we attract. Choose your attitude, be present, commit to growth, persist without expectation and always find ways to exceed expectations.
Michelle Cole, F.L. Crane
Cory Lee has been incredibly valuable in my search to find the right landing place. He has a way of bringing clarity to my, sometimes confusing, thoughts in a way that adds direction and gets me back on track. He helps keep the fire under you when you don't feel like staying on course. I'm very grateful to have worked with him during such a challenging time professionally. I highly recommend his services to anyone who is looking to further their career or someone looking at a career pivot.
Tanny Crawford